Violet Malice has been hard at it. Don't expect her to back down anytime soon. Sometimes the best things are worth waiting for, like when you queue for two hours for the salad buffet at Pizza Hut and it's all over dressed and limp around the lips. Some educated people have been saying this book review is a bag of severed dicks and that it should be wiped from the internet like dog shit off a bushy moustache. There are other people that say Violet is choosing the wrong books, you know the valueless pulpy sacks of shit that are not worth the paper they are printed on. They say that maybe she should review the great sex classics written by the inventors of titillation like Henry Miller and all the other bloated big-dicked misogynists that have their heads so far up their own arses that they can't piss straight. Violet thinks all those people can go fuck themselves. Write your own blog you lazy twats. She's fine with no one reading any of this – you know what, it's probably best. So here we go, Violet's weekly adult book review dives into the 70s this week in an attempt to answer that unadulterated question: can a good book ever be as dishonest as a good fuck?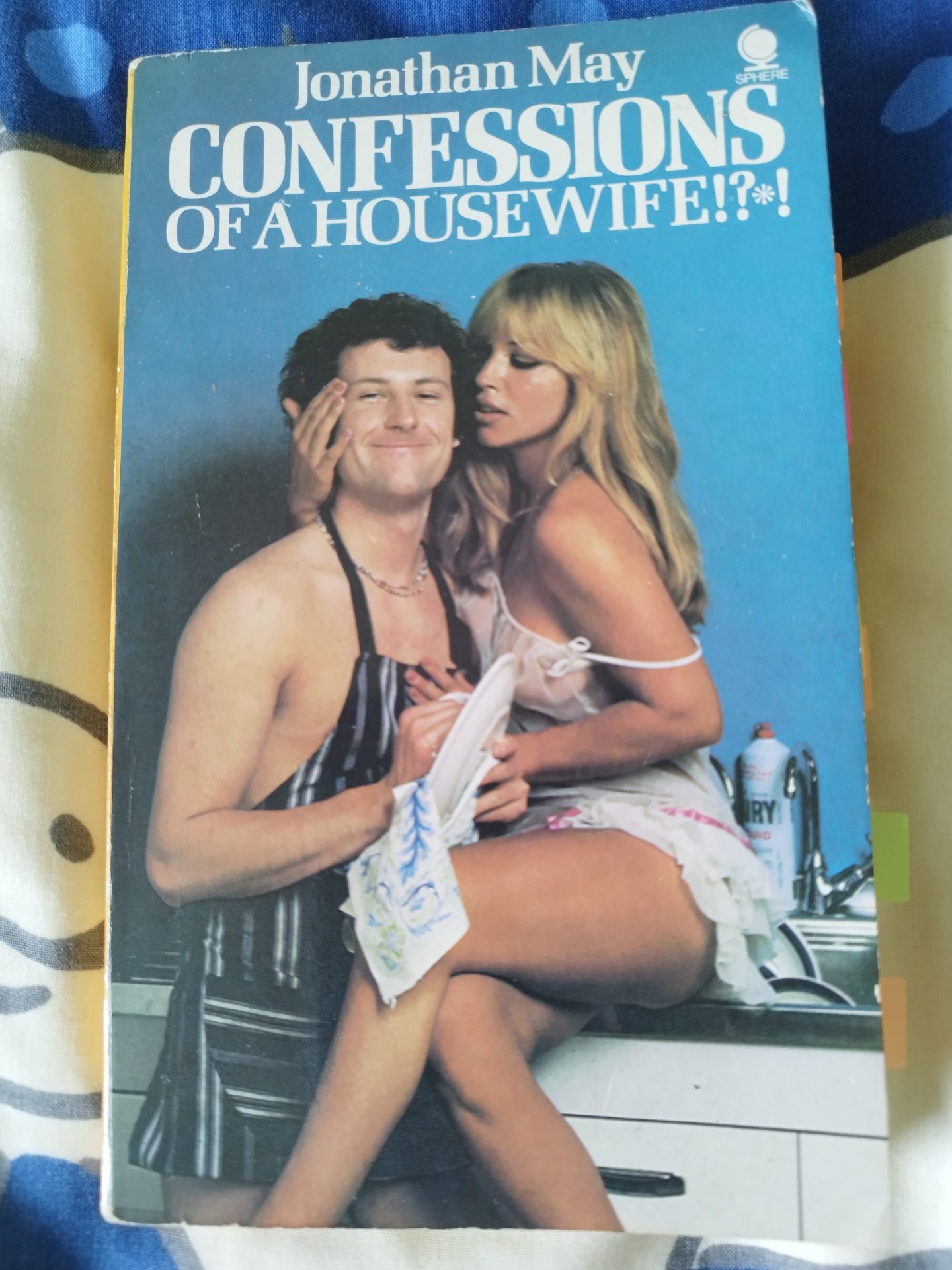 Book title: Confessions of a Housewife!?*!
Author: Jonathan May
Publisher of this edition: Sphere Books
Copyright: © Jonathan May 1976
First published: 1976
Cover photo: Doesn't say
THE RAUNCH REVIEW: Violet's Verdict
Quick synopsis:  Jonny meets an older woman in a taxi and ends up going home with her. When the horny widow wins a six-week holiday on a spot the ball competition, Jonny finds himself standing in as the 'housewife' for her three children. Needless to say, chaos ensues. 
Title: One of the infamous confessions' books from the 70s, the titles of which all begin the same and focus on the sordid confessions of certain archetypes. This book is particularly playful in that it places the hapless male in the thankless and hopefully totally redundant role of the housewife. 
Cover image: The rogue male is wearing just an apron and drying the dishes, how terrifying. Some hot blonde has got her bare arse all over the surfaces, which obviously turns all our stomachs. Hygiene is a keystone to keeping house. He looks pretty pleased with himself. Like housework is well easy and fun, which is obviously not fucking true. He's not taking this seriously I suspect, which makes me angry.  
Best sentence/s in the book:
I help the lovely lady on with her flimsy tight black lacy knickers, pulling them carefully up over her long firm thighs, and pressing them into her pussy pelmet so that they nestle snugly in place. 
For a moment I think of that awful bit in Jaws, when the naked bird who's just had it away, finally has it off by the shark. 
My veal vibrator is rocking and rolling like Chuck Berry with the wind behind him. 
The lady gets her morning tit-bit, and I slide down and give a demonstration of what a cunning linguist I am. 
The first time wasn't easy, with her lying there like a dead polar bear, and me working away like a docker on overtime. 
The velvet vacuum cleaner is going full force.
By reaching all the way round her, my nimble right hand can manage a bit of extra massage on her booster button. 
Sign-up to Violet's mailing list HERE.
Buy Violet's chapbook HERE.

 
Overall sexual content: Well, well, well. I'm going to shock you now and say that the sex bits are pretty good. Light-hearted, funny and yes, actually, pretty thrilling. The Jonny character is an arrogant cad, but the careful nuance of the writing also makes him a bit of a loser, so it actually works really well. So rather than being a big turn-off, which is what I expected from a sleazy male focused dirty book from the 70s, it was actually a blast. 
Although there are countless motions towards aggressive female desire, the humour and ridicule of the main character make any such comments harmless and part of the overall power struggle inherent to all sexual dynamics. There is great humour in the lies we tell ourselves and the positions we put ourselves in when the curtains are drawn. 
Overall conclusion: 5 out of 10.
Titillation station: A riot really. A great quickie with some laugh out loud moments and no room for any deep thinking. Sometimes that's exactly what the doctor orders. A momentary escape from reality. 
Food for thought: A prolific and respected sci-fi writer in his own right, Laurence James moonlighted as Jonathan May to write a large helping of this sleaze series. It's hard to know exactly who they were intended for – my guess is probably men because of the humour and the male focused kink (our Jonny wants to and eventually does have sex with the 17-year-old daughter), but I could be wrong. It seems that pseudonyms helped to save the 'straight' writer from any bad shit that might come of writing naughty things. 
Our narrator Jonny calls his prick Edgar, which is actually very funny. It helps to give his cock a life of its own.  There's no dark undertone to this, but this personification of the genitals does give our protagonist the ability to distance himself from his dick's behaviour, which is not progress. That way leads to the horror of not being accountable for our actions. Letting ourselves off the meat hook for the good, the bad and the ugly. 
The book is a right laugh, and I really was pleasantly surprised. When I picked the book up, I took a deep breath and steeled myself against what I suspected would be a hornet's nest of offensive tripe. But I was wrong. These books are a bit of fun. Not to be taken seriously. I mean – of course – they are not the best thing every written, but equally they are far from the worst. It's actually very hard to write funny. I would gladly have a burrow in the rest of the series when I fancy getting the old laughing tackle out for some gagging. 
Don't miss it – sign up to the mailing list here: CLICK ME!