We are nearly at the big red door onto virgin territory. Imagine what exciting shit is out there. I'm so insatiable that I actually started my 2023 pocket diary already. What a terrible bitch! Patience doesn't exist anymore, remember. Everything is binge binge binge until there's nothing left, but emptiness and wrappers. So we might as well get on with it. Get reading. Those dicks won't suck themselves, as my mum always says. Violet's weekly adult book review attempts to answer that carrot-nosed question: can a good book ever be as naughty/nice as a good fuck?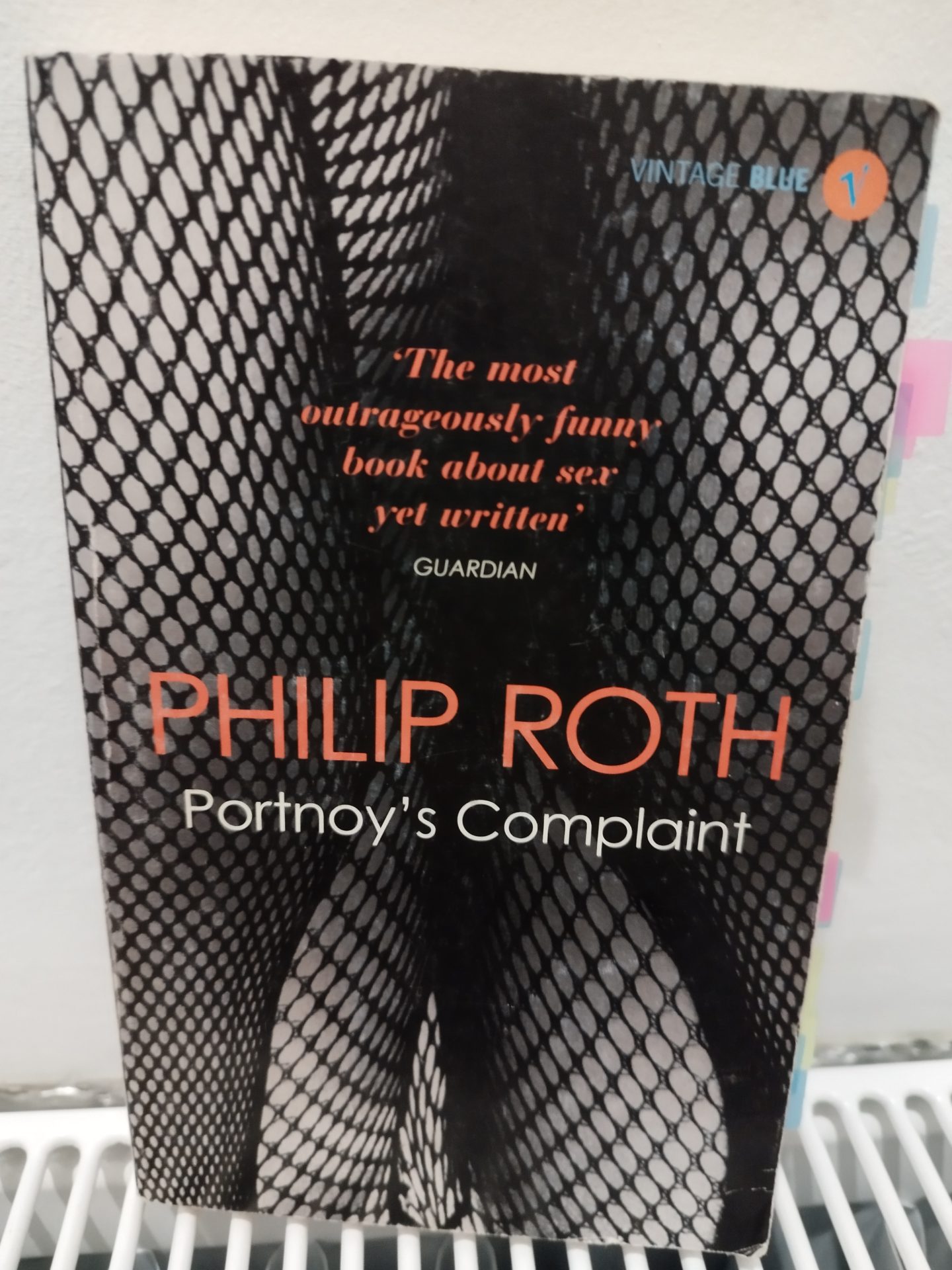 Book title: Portnoy's Complaint
Author: Philip Roth
Publisher of this edition: Vintage UK, Random House
Copyright: © Philip Roth 1967, 1968, 1969
First published: 1969
Cover art: Daido Moriyama
THE RAUNCH REVIEW: Violet's Verdict
Quick synopsis:  The novel is written in the form of a lengthy sexually explicit monologue by the main character Alexander Portnoy to his psychoanalyst. Portnoy details his ongoing inability to enjoy his sexual conquests, which become more and more extreme. He also likes masturbating or sweating his onions, and I mean loads, like tens of times a day. 
Title: The book centres on exploring the fuck bangs that never end in catharsis. It begins with a clinical definition of "Portnoy's Complaint," which is said to be a disorder that wages war between ethical impulses and perverse sexual desire. The definition is provided by Portnoy's psychoanalyst, who states that he believes the symptoms, supposedly displayed by the main character, are linked to the mother-child relationship. 
Cover image: A naughty look up some fishnet tights. Sexy up-skirting yeah. Like an erotic kaleidoscope of bunched thighs and folds leading you in. The feeling here is that she's game, whoever the bird is with the legs, given that this type of tights are said to be exclusively worn by sluts.    
Best sentence/s in the book:
Then came adolescence – half my waking life spent locked behind the bathroom door, firing my wad down the toilet bowl, or into soiled clothes in the laundry hamper, or splat, up against the medicine-chest mirror, before which I stood in my dropped drawers so I could see how it looked coming out.
Nonetheless, it would seem that I never forgave her: in the weeks following our false alarm, she came to seem to me boringly predictable in conversation, and about as desirable as blubber in bed. 
"Come, Big Boy, come," screamed the maddened piece of liver that, in my own insanity, I bought one afternoon at a butcher shop and, believe it or not, violated behind a billboard on the way to a bar mitzvah lesson. 
Did I mention that when I was fifteen I took it out of my pants and whacked off on the 107 bus from New York? 
Once in the morning (in an overgrown field near the lake shore) we had sexual congress, and then that afternoon, on a dirt road somewhere in the mountains of central Vermont, she said "Oh, Alex, pull over, now – I want you to come in my mouth," and so she blew me, and with the top down!
Her favorite line of English prose is a masterpiece: "Fuck my pussy, Fuckface, till I faint." 
You put your dick some place and moved it back and forth and stuff came out the front. 
Sign-up to Violet's mailing list HERE.
Buy Violet's limited edition chapbook HERE. 
Overall sexual content: I wouldn't say it's a sexy read. Obviously this guy has issues and therefore lots of the dick based detail is centred on him wanking off in unusual and risky situations. He spends a lot of time pretending to his family that he has diarrhoea so that he can masturbate in the toilet, whilst his mum and dad frantically bang on the door begging him not to flush.  
Surprisingly, our main character does manage to have actual sex with lots of women, but most of it is disrespectfully described. He wants to have dirty sex with sluts basically, so that he can fuck them and get them to do whatever his fat controller fancies in that particular moment. Because don't forget, he is tilting his sword at windmills with no hope of actually being satisfied. 
Overall conclusion: 6 out of 10.
Titillation station: I had high hopes for this well-respected wad of filth, but was sadly frustrated. No bristling or flinching whatsoever. The equivalent of a badly defrosted fish finger sandwich, which tastes like glass on the way down. 
Food for thought: It's interesting that Roth used the old therapist/patient relationship as the basis for the book. A confession of sorts of a young man's inner most desires and thoughts, no holes barred. Full frontal honesty or at least his version of how he wants to come across. Mr Roth is making us into smug voyeurs of sorts, like when people watch Embarrassing Bodies on telly with a bucket of popcorn to make themselves feel better about the shit they've got creeping about under their clothes. 
The most memorable bit in the book is when Alex masturbates with a piece of raw liver that his family then cooks and eats that evening. He sits there with them and eats it as well I might add. They have no idea why they get a mouth full of crusty wire pubes. Luckily, the book ends with him not being able to get it up anymore. Thank fuck! 
Be naughty and nice – join the mailing list: CLICK ME!