Violet Malice has been worrying about the cost of living and the sharp increase in the price of salad cream. It's like they don't think we'll notice. It's £3.29 in ASDA. Like what the total fuck! How is that even possible. The main ingredients are water, vinegar and plastic. As a comparison, you can buy 32 pork mini eggs just a few aisles away for a tight £3.50. Insanity. Or you can get Dr Oetker's extra strong black food colouring for £1.50, but one unsatisfied customer said that it comes out "kind of grey". It seems that living comfortably might be the Christmas wish on most of our lips. Having enough warm socks to make a draft excluder and some proper non-scented candles to light up the dark. There are around 20 calories in a tablespoon of semen and sadly very little nutritional value, just so you know. On the other hand, there are around 42 calories per fluid ounce in pussy juice. Sexy. How to stay hot when it's arctic out there? There she blows, Violet's weekly adult book review attempts to answer that hangry question: can a good book ever be as thick and saucy as a good fuck?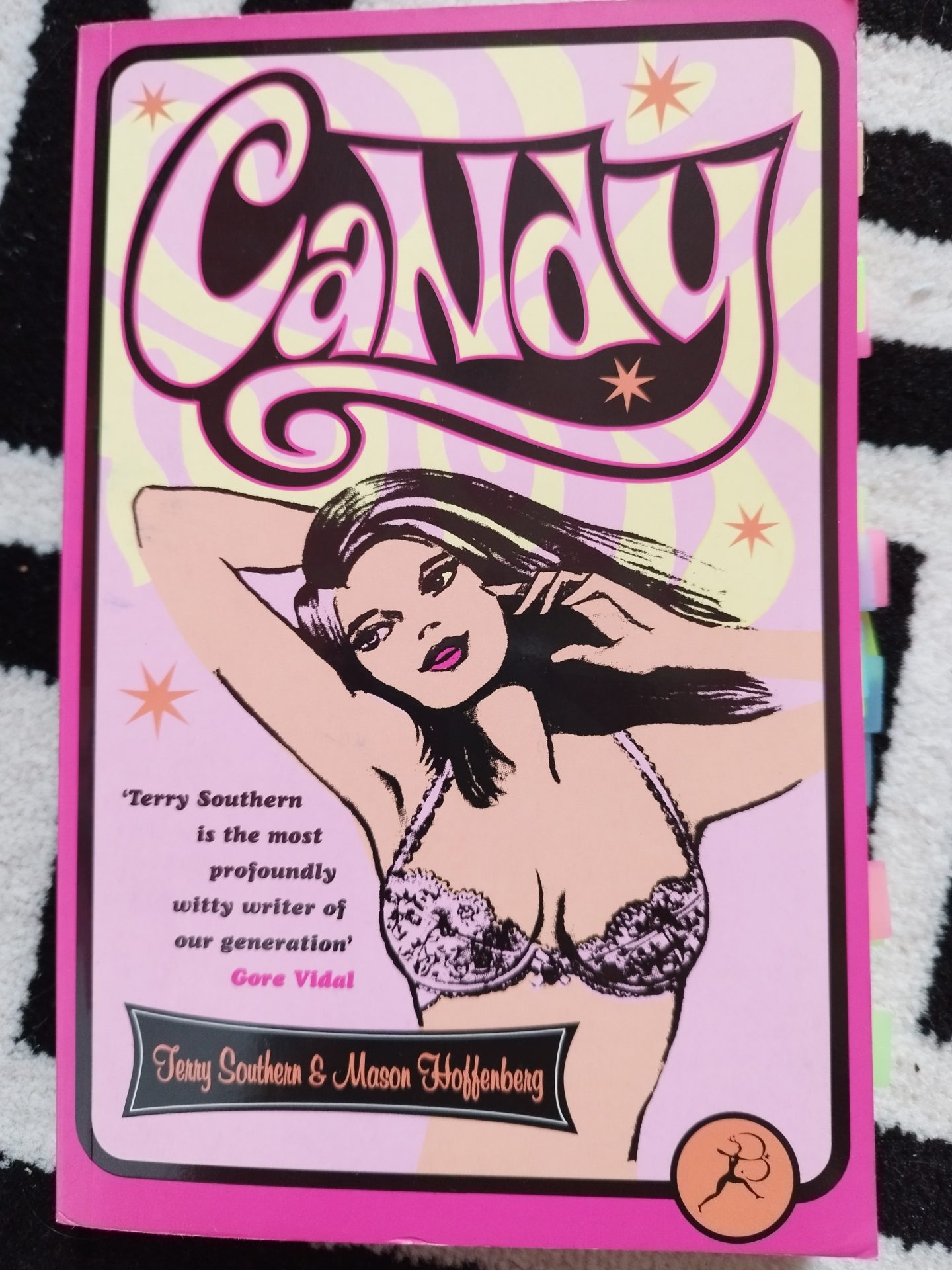 Book title: Candy
Authors: Terry Southern and Mason Hoffenberg
Publisher of this edition: Bloomsbury
Copyright: © Terry Southern and Mason Hoffenberg 1958, 1959, 1962, 1964
First published: 1958
Cover art: Doesn't say
THE RAUNCH REVIEW: Violet's Verdict
Quick synopsis:  Eighteen year-old Candy is drop dead gorgeous, so much so that every man she comes into contact with wants to fuck her. The book presents a landslide of farcical sexual encounters, which all involve the naïve young woman being pressured into sex and then something disastrous happens mid-shag. 
Title: The main focus of the book is a woman called Candy. Pretty straightforward. Everyone wants candy. 
Cover image: Nice er… typeface. Pink and curvy. I must say the cover is pretty trashy and childish. I was ashamed to spread the covers on public transport as an experienced reader of quality filth. The illustration of a young woman in just her bra is probably an accurate reflection of the content inside. Pretty damn pathetic. 
Best sentence/s in the book:
She still wasn't sure she might not be dealing with some kind of raving, anal-erotic maniac. 
You will notice that I have caused my member to become stout and rigid – as though it were in the so-called state of 'erection'. 
"Here's a credential for you, momma!" said the police officer in the back seat with her, and he tore open his fly and forced her hand inside. 
"Like salami wouldn't melt in your mouth!"
He was keeping his eyes trained on the scalloped V, beneath which pulsed Candy's precious little lamp-pit. 
"Not so distasteful, I daresay, as your fat clit!" 
"Perfect! Her tubes are perfect!" 
Sign-up to Violet's mailing list HERE.
Buy Violet's limited edition chapbook HERE. 
Overall sexual content: Awful. All of the sex is repulsive and ridiculous. A bad tasting combination. The whole book centres on aggressive male desire (so men being helpless sex beasts in the face of young beauty) and the subservience of women, whose bashful desire is seemingly only activated by being needed/wanted by men. 
Candy is forced into sex by her father's identical twin, a gynaecologist, a hunchback who wants to steal all her money, and a philosopher, not to mention all of the other characters who try to cop a feel (police officers, a psychiatrist, etc etc). The book cums to a big end with a pretty monumental sex scene. A building is struck by lightening and begins to fall apart, which forces her cunt onto the erect penis of a man covered in mud. A statue falls down and becomes impaled in her arsehole as she begins rocking backwards and forwards on this guy's cock, who she suddenly recognises as her father. 
Overall conclusion: 2 out of 10.
Titillation station: There are a few sexy bits. But on the whole the book is totally ridiculous and vile. Everything withered up and died. One of the quotes on the back of the book says 'Sex, after this event, will never be the same,' and I kind of agree, it totally put me off sex with men. Sexual desire presented as a desperate, violent, uncontrollable and selfish sick dog is the anthesis of sexy. Sadly, there are too many real-life examples of this sort of behaviour for the book to be funny. 
Food for thought: Both of the writers (who originally wrote the novel under the pseudonym Maxwell Keaton) freely admitted writing this book just for the money and were flabbergasted when people reviewing the book said that Candy was a satire on Candide. Terry Southern said, "It's as if you vomit in the gutter and everybody starts saying it's the greatest new art form, so you go back to see it, and, by God, you have to agree." 
The raging success of this book is a real shocker. To go down the hell hole of presenting a woman as so desirable that all men will basically rape her – even if you try and present it in a farcical way – is just deplorable. And the fact that Candy is so gullible and so desperate to please, makes it even worse. Female beauty exists to be tarnished and enjoyed at all costs it seems. And male power, physical and well as societal, makes this possible. Everyone that comes to Candy's rescue tries to get into her knickers, like a run of horrifying dominoes. Because grateful is exactly how you want them. 
In 2006, Playboy Magazine placed Candy at number 22 in its list of the "25 Sexiest Novels Ever Written," I wonder what sort of fucking prick compiled that list. It seems I might have lost my sense of humour. 
Beware – sign up to the mailing list here: CLICK ME!