Violet Malice has become obsessed with the popular idiom COLD TURKEY given it's that time of year again. It's a multifaceted bird when you start thinking about it. You get the feeling that no body likes COLD TURKEY and in actual fact it might be pretty unbearable. Those grey pieces of dry sand-paper in-between two cold slices of bread with a bit of cranberry lube to help it get down the pipes. Drowning in a house full of shit gifts and torn-up wrapping paper. The internet says that the opposite of COLD TURKEY is HOT TORTOISE because they take their time and are pretty tasty. It's shocking that the classic Xmas bird has such a bad rep when we consider that it's the bird with the most generous cavity. As an example of just how gargantuan the storage possibilities, in the olden days (Xmas 2011), Hugh Fearnley-Whittingstall stuffed nine other birds into a turkey's orifice: a goose, a duck, a mallard, a guinea fowl, a chicken, a pheasant, a partridge in a pear tree, a working class pigeon and finally, a little pink woodcock. The question is, in this cruel world we live in: why do turkeys exist if no one actually likes them? If chickens do it better in terms of thigh and breast, why do we let the old turkey crown keep coming on the kitchen table for Christmas? Sadly, the answers to these questions might evade us forever. Now back to business, Violet's weekly adult book review attempts to answer that neon question: can a good book ever be as costly as a good fuck?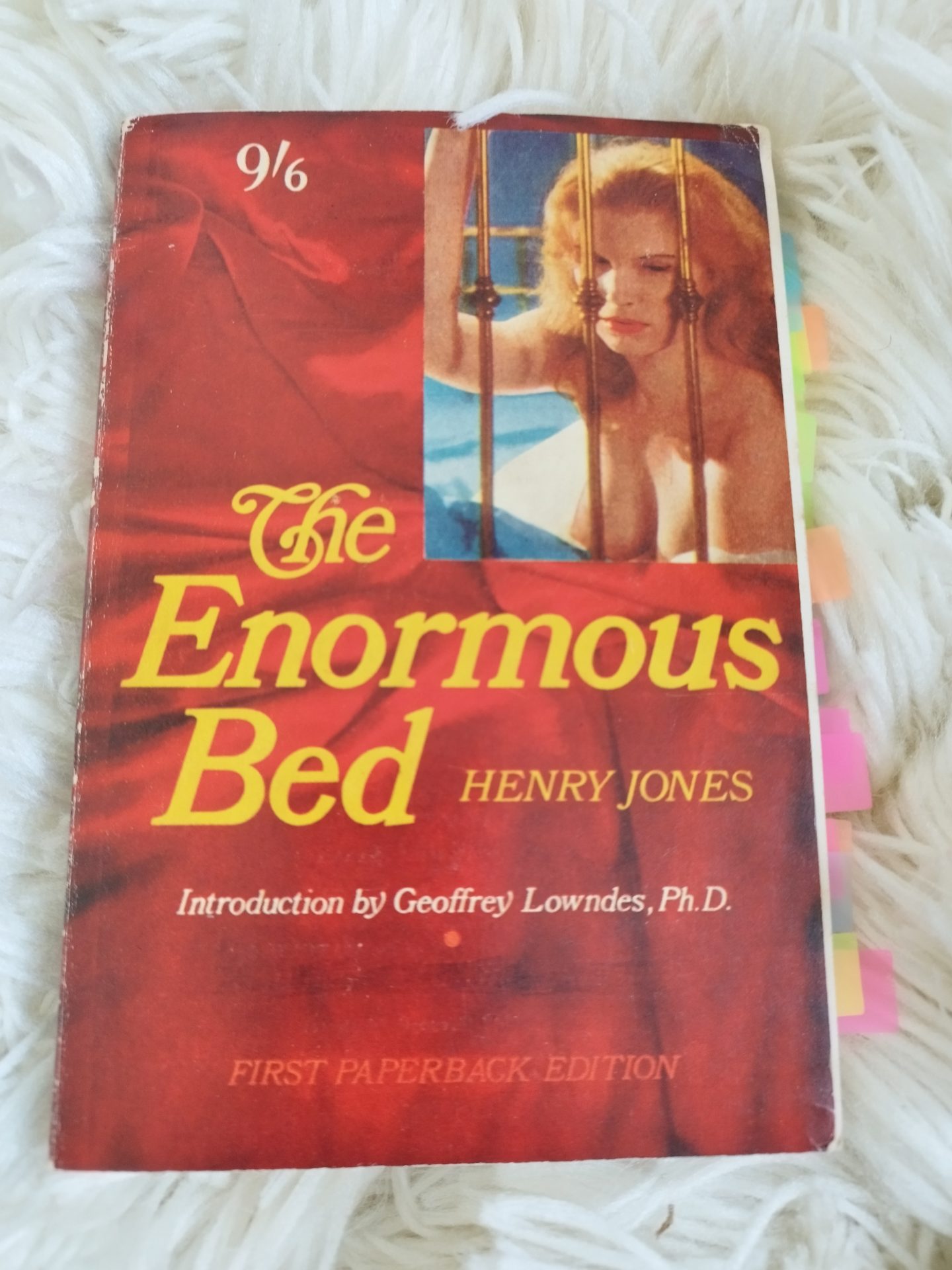 Book title: The Enormous Bed
Author: Henry Jones
Publisher of this edition: K & G Publications
Copyright: © Brandon House 1967
First published: 1967
Cover art: Doesn't say
THE RAUNCH REVIEW: Violet's Verdict
Quick synopsis:  A posh guy called Henry – who is convinced he's a pretty good shag – tells us some anecdotes about his life, and by life I mean his sex life. The book basically details the ins and outs of this guy's sexual pursuits. 
Title: I suppose it's a poetic nod to the shrieking mattress. The spring loaded playground of the playboy. A bed is not for sleeping in after all. Or at least that's what I asked for in Bensons For Beds: a bed for fucking, no sleeping allowed under any circumstances. All the guy gave me was a funny look. 
Cover image: One of the trashiest covers I've come across so far. Crumpled swags of red velvet suggest luxury and passion. The naked big breasted woman with no eyes in the top right looks like she's imprisoned in some sort of bed cage. If she was smiling, I might think differently. But her servitude gives me the willies and suggests that this is a man's book. 
Best sentence/s in the book:
We were locked utterly in need, a self-destroying monster, jerking as one. 
I was close to the hot top of all my striving. 
Finally she seemed to go mad and worked herself desperately, while I redoubled my onslaught until, in a double rear of our bucking bodies, the long drawn thread of my being poured free into her. 
It was more like a foam-rubber playground than a place for sleeping.
Utterly exhausted, our one body hunched on itself like a weary worm. 
There was plenty of room to swing a blonde and my thoughts were already turning in that direction. 
The pink expanse of quilt quivered.  
"I want," I said, "to go to bed with you very badly."
Sign-up to Violet's Xmas mailing list HERE.
Buy Violet's limited edition chapbook for Xmas HERE. 
Overall sexual content: Pretty steamy. The book is majority sex, which is how I like my pork pies, lots of meat and not much jelly. But I wouldn't necessarily say that the sex is hot. The main problem is that the guy can write. And I mean he can write properly. A poet in the rough. Apparently, an author and critic in his own right, John Coleman joins the battalion of serious writers that chose to disguise themselves when they penned a dirty book for cash. 
I reckon the book would have been more randy if the main character had been more likeable (Henry is so posh and arrogant that you can't help but despise him and his mega dicked ego). This guy thinks he can bed any/everyone with a pulse and given that he's telling the story, that's exactly what he does. He gets seduced and used for sex all the time by these insatiable big titted bitches, which is obviously pretty fucking terrible and exhausting for him. BOOHOO!
Overall conclusion: 7 out of 10.
Titillation station: The Guardian did an article some years ago saying that the book contains some of the best sex scenes ever written. I would beg to differ on that. The sex scenes are OK – when 17 year old Henry gets seduced by the headmaster's wife, or when Henry gets a job 'servicing' a young woman. But they are hardly memorable. I don't think my breathing changed at all whilst reading them, so you know… all quiet on the M62. 
Food for thought: I don't get on with books that paint women as sexual aggressors all the time. I don't find that sort of shit erotic. There is an undercurrent of dislike and one-upmanship in that sort of thinking that really gets my goat. And my goat likes to have lots of nice warm milky sex. 
At one point Henry calls one of his friends a professional skirt chaser that kind of sums it up for me. Hopefully all these men are dead now. 
Be naughty this Xmas – join the mailing list: CLICK ME!