Violet Malice has been digging out the knitwear and gently handling moth balls. The weather has taken a turn this week, from mild to nippy. It seems that September has burnt itself out and everyone's legs and bottom cheeks have gone into hibernation. Violet has taken to reading late into the morning, under the covers with a steaming cup of tea and some nice biscuits (describing word rather than nice biscuits themselves which are not actually very nice). Sometimes staying in bed is the best we can do. This week's reading material has been a bitter lid to lick. Like one of those massive tubs of yogurt with a handle that you buy because it makes sense fiscally, but which turns out to taste like absolute fucking shit. Not all books should be easy and soft, some books are better read pushed up against a load-bearing wall. Violet's weekly adult book review attempts to answer that overpowering question: can a good book ever be as lip suckingly horrifying as a good fuck?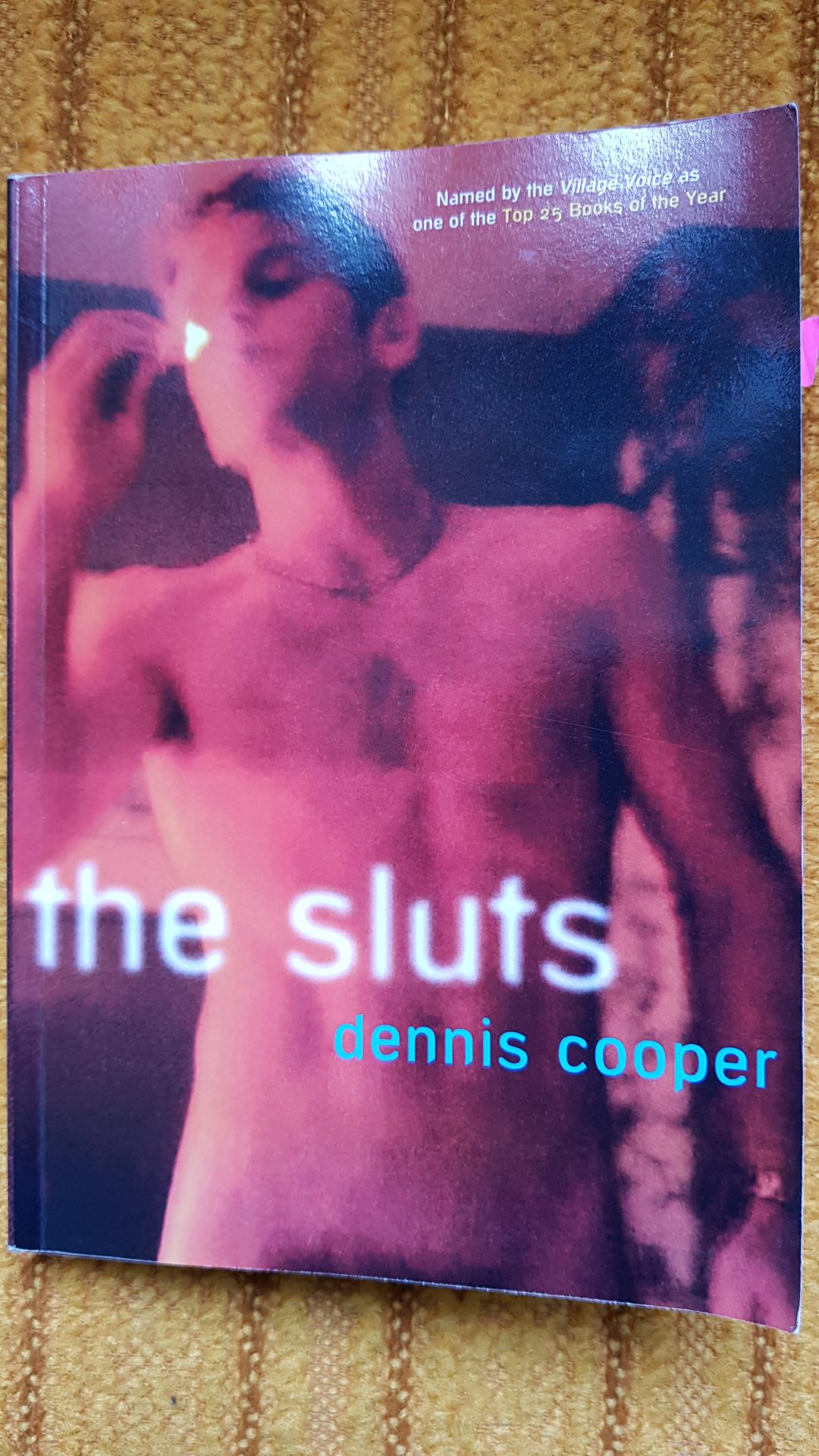 Book title: The Sluts
Author: Dennis Cooper
Publisher of this edition: Carroll & Graf Publishers
Copyright: © Dennis Cooper 2004
First published: Sections first appeared in various literary magazines
Cover photo: David Sprigle
THE RAUNCH REVIEW: Violet's Verdict
Quick synopsis: The book is made up of a mishmash of reviews from the pages of a website for gay male escorts, message boards and emails. It focuses on the goings on of one particular escort and his sugar daddy, which escalates into a huge steaming paella of horrendously explicit sex practices, lies, fantasies and online posturing.
Title: The Sluts is a pretty wet nosed title, if you ask me, given the absolute depravity in the book. It probably should have been much more hardcore given that most of the activity in the book focuses on extreme S&M and online sex people obsessing over the thought of young twinks being bred and killed.
Cover image: Well lit! Gritty and raw, full frontal, exactly like the insides.
Best sentence/s in the book:
I would have sold my mother into slavery to bury my face in that ass and feel my tongue inside that warm, perfect body.
His years as a heavy bottom have damaged it beyond repair, but you could say the same thing about the Grand Canyon. 
I recommend doing him with the lights on because you can stretch the elastic and look all the way into his beautiful, pulsing guts. 
He had a reputation among the regulars at the bar as an arrogant creep who charged a ridiculously large fee ($350) to sit on men's faces and masturbate. 
Make sure you sign-up to Violet's mailing list HERE. And buy Violet's chapbook if you can as she is on her knees HERE. 
Overall sexual content: The book is full of extreme sex so it is very harrowing indeed. I had to have a breather on a number of occasions – particularly when towards the end, the young escort that is the focus of the book is castrated and raped, whilst been made to eat his own testicles.
The format and writing style captures the unrestrained and frightening depths of the online world – dark, unaccountable and anonymous. The narrator and every voice in the book is contradicted or exposed to be lying or withholding information, so the book begins to take on a fantasy of its own. Just when you feel as though something might be certain, everything is turned on its head and truth begins to dribble down your inside leg. Is anything true? Is anyone being serious? Is all this just a big collective wank fantasy?  
Much like the incel forums of today, which advocate sexual violence against women, there is a monstrously real quality to the sentiments expressed in the book. And even if these individuals are just fantasising about murdering beautiful young escorts and getting off on it – is that in itself OK? What about free speech? If every response is an escalation, if we need harder and harder stimulus, where will it end? Death and destruction? The final curtain. La petite mort pulls itself back together and then snuffs out for good. 
The online world has blown up the hornet's nest of sex and debauchery and our ability to take on new identities and express extreme views to get a reaction. It has enabled us to get unrestricted access to anything we want. Enter conversations and be part of communities that we may not have had access to previously – but this can be positive and negative. Certainly, the book showcases the dangerous quicksand of message boards and online forums, which suck people in and pump violently until all that is left is bleached bones and a bucket of cum. 
Overall conclusion: 6 out of 10.
Titillation station: Sawdust and celibacy.
Food for thought: Don't get me wrong, there is certainly a place for S&M and serious kink. What a beautiful flinching portmanteau of sadism (the pleasure from inflicting pain) and masochism (the pleasure from receiving it). First spewed from those two great fucking writers: sadism comes from the French sadisme named after the Marquis de Sade and masochism from that old bastard English named after Leopold von Sacher-Masoch. The crucial thing about power and submission is the line really. Between perineum and arsehole. The space between the collar. The perspiration between pleasure and pain. Life and death. Fantasy and reality. Art and literature. Anticipation and… At what point do the seams come open and the doors fall off.
We are all shaped by power dynamics. Sex is about power. Sometimes the powerful want to get on their carpet burned fucking knees and dine out on shit and vice versa. But I would suggest that pain and abuse without trust becomes a whole different beast when it makes that leap into the real world. 
Push it – sign up to V's mailing list: https://eepurl.com/hTKdsr