Violet Malice has been sucked inside another work of erotica this week. Like walking into a wardrobe for a fresh vest and finding yourself in a dark room in Berghain with a sex wolf sniffing at your privates. Keen to find a bedtime read that cuts the mustard and dabs it lovingly around the perineum. Violet's weekly adult book review attempts to answer that insatiable question: can a good book ever be as tactile as a good fuck?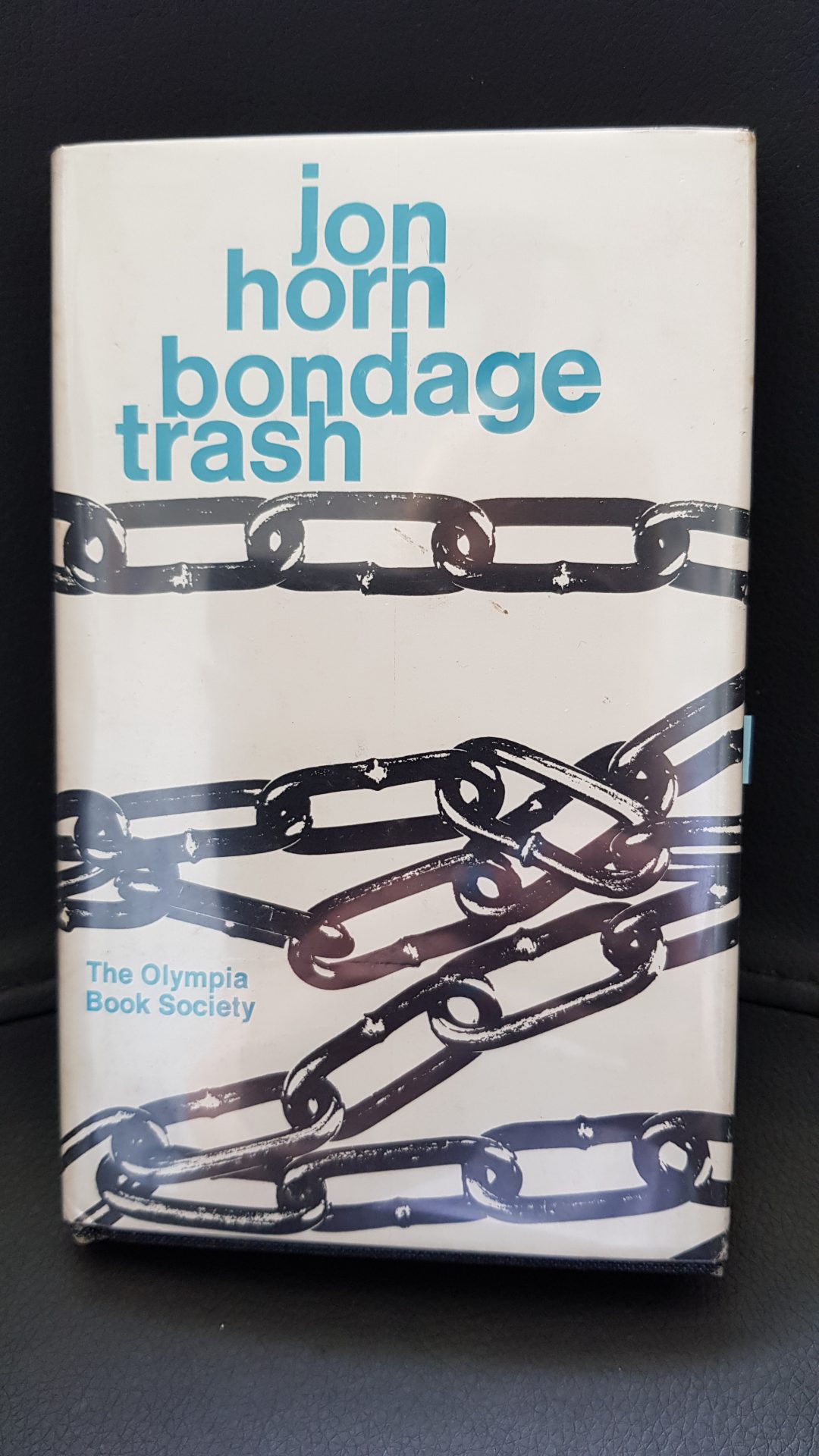 Book title: Bondage Trash
Author: Jon Horn
First published: 1968
THE RAUNCH REVIEW: Violet's Verdict
Quick synopsis: The book presents a collection of supposedly factual documentation on a dystopian sex crazed society where nothing is off limits. There are no real plot lines, just disconnected chapters of content detailing all manner of sexual deviancy. In Part Two of the book it switches from 'The Material' to 'The Dossier' where certain extreme cases/patients are analysed and pulled apart by anonymous state-backed medical professionals. The book is dominated (pun intended) by sadomasochism, power and cruelty, almost as if this sick society is so full of hate fucks that absolutely no other feelings exist anymore.
Front cover: Some nice chains. Like it. Words like restraint, cold, hard, metal and capitalism come to mind.
Title: Probably one of the best book titles ever. Two words that twist and writhe against each other. Both things I like: bondage and trash. Certainly, the title and cover image made me want to read the book on a busy train on the underground. Holding the book proudly just below my lips to slightly obscure my lime boobtube from all the Financial Times reading professionals squeezed into their mohair business suits.
Best two-word phrase in the book: In all honesty way too many to choose from. Here are a few gems: semen crystals, goats' rectums, unmarried gynaecologists, cornflake face, swallow girls, dream cunt, aphrodisiac cocktails, champagne fellatio, pink traffic, ambulating climax, wild scrotum, musky aphrodizzy, gonadal goo, gastric surroundings. 
Best hyphens: Pudenda-bender [the perfect precursor to my poem Tinder Bender!! which you can purchase for cold hard currency here], peeping-Tomism, fuck-and-suck, genitourinary-world-view, sex-police.
Best sentence/s in the book: Brace yourself please:
He finally confessed that he collects slices of sausage, preserves them, each slice in a glass jar, and indulges in onanistic and instructive fantasies. 
He saw a girl in a white dress spattered with mud from a passing car one day and had an erection. 
Kisses and caresses, a state of rapport; the old rich fart sans pajamas jacks off in a hat and his clique follows suit, their jackulations join like merging streams of milk of magnesia, disturbing transports showering applause on the two girls revealed now in successful and aesthetic union, auras of cunnilingual crescendo shimmering through the rainbow of the semen spray, wriggling gold limbs rippling with orgasmic spasms of fury from French aristocrats, old dowagers, hommes des lettres, and danseuses… arms and fingers grasping flesh. 
Clara appeared with her hubby on a golden leash; hubby wore falsies, was obviously crotch-bound under a flimsy and soiled bikini bottom, had a maniacal queen expression and smelled of pancake makeup and scum.
I came all over the corset-torture brochure and checked the time. 
The removal of the clitoris was ordered for all torture girls working the street by legislation proposed by the once notorious CUNT (cartel of the uninhibited nymph-tormentresses). 
The wife stared at us with haughty flashy glazed eyes, like a queen watching two monkeys doing it.
Best paragraph in the book: On our wedding night he forced a coconut custard pie into my hands without any expression of endearment and told me to throw it at his face. I complied, though puzzled, and watched him have an immediate orgasm. We were nude. I had expected thrills. But this! And then he brought out a second pie – I had wondered why he had brought two pies into our bridal suite – and, when he had wiped the pie off his face and the come off his prick, he told me to throw the second pie at his ass, and turned around. Naturally I was indignant. He slapped me, hard. So I obeyed him, and watched him come again. Then he was nice to me for a while. Later I realised he was only buttering me up for the main event: I had to lather up his chest with shaving cream, straddling and sitting on him to do it, and then I had to shave his chest slowly, while he got an erection. Then – can you believe it? – he wanted me to shit on his chest! Luckily I hadn't taken a shit since after the wedding rehearsal the day before, so I could provide him with the biggest kick; otherwise he would have been mean, like he was on nights when I just didn't have it for him, later on. He was always nice to me just before and just after. But what about me? I asked him. I wasn't having any fun. This he always ignored. He never wanted to enter my body in any way, and though I disported myself quite lewdly for a while in the beginning, hoping to arouse his interest in my cunt or at least my armpit (for such were my desires), he only got itchy for pies and the chest-shit again. 
Story of my life!
♥♣♦♠Turn her inside out, buy Violet's chapbook. One lucky person that purchases Violet's chapbook AND signs up to the mailing list by 1st July 2022 will also receive the rare/collectable/shagged copy of Bondage Trash by Jon Horn (see picture above, the actual copy), which is still warm and includes Violet's page markers. Winner selected at random. Mailing list sign-up here. Buy chapbook here.
Sexual content: Great writer obviously. Very very very funny. The book is a barrage of extreme sex. Disassociated, unrelenting and frenzied. A society that seems bereft of all generosity. No one seems to have fulfilling sex, and even though they climax, they are left wanting something more, something worse. However much they come together, they seem to get further and further apart. Desperation leads to an insatiable appetite to fight loneliness through the abuse of others.  So sadly the book is in no way titillating and I am sure Jon Horn didn't intend it to be.
It goes without saying that if you want to present a sick sex fuelled society, alienating and shocking the reader are probably a good way to blow.
Overall conclusion: 8 out of 10.
Glorious full-on assault of trash and dirty dirty filth. Superb book for anyone that loves literature and great funny writing.  Less so if you are in it for those lovely warm feelings or want to see S&M presented in a creamier less offensive sauce.
Titillation station: Two hander. No need for sitting on any limbs here.
Food for thought: It makes me think of a sexy Bladerunner with Harrison Ford impounding Rutger's athletic body in some sort of medical facility to try and understand why no one has any feelings any more aside from the fleeting obliteration of orgasm. Perfect ending!
shit fuck cunt        (dies) 
Sign-up to Violet's mailing list now that's an order: https://eepurl.com/hTKdsr