Violet Malice had this long hot bath on Tuesday that nearly melted the flesh off her bones. She had to stand up for a while to counter the light-headedness that jumped in with her. The mirror looked like a big red lobster with gangly claws all steamed up in some sort of middle-class person's bathroom. Apparently, or so the internet claims, the scream that you hear when a lobster overheats is the expanding air rushing out of small holes in its shell, which sounds like a whistle being blown. They are not actually that bothered. If you know anything at all about lobsters, then you'll know exactly what they get up to in the sack. The ladies like to piss in the face of the male over a few days because the urine of the female lobster has a chemical in it that disarms him and transforms the male, as if by magic, from an aggressive Hulk like meathead into a gentle lover. The Urban Dictionary defines 'the gentleman lover' as a man who 'gets his pussy' by acting as though he truly cares about the girl in order to make her want to sleep with him. What a complicated state of affairs. Now let's get back to business. Wipe that lobster fucking stuff from your mind. As always, Violet's weekly adult book review attempts to answer that piece of shit question: can a good book ever be as reasonably unpleasant as a good fuck?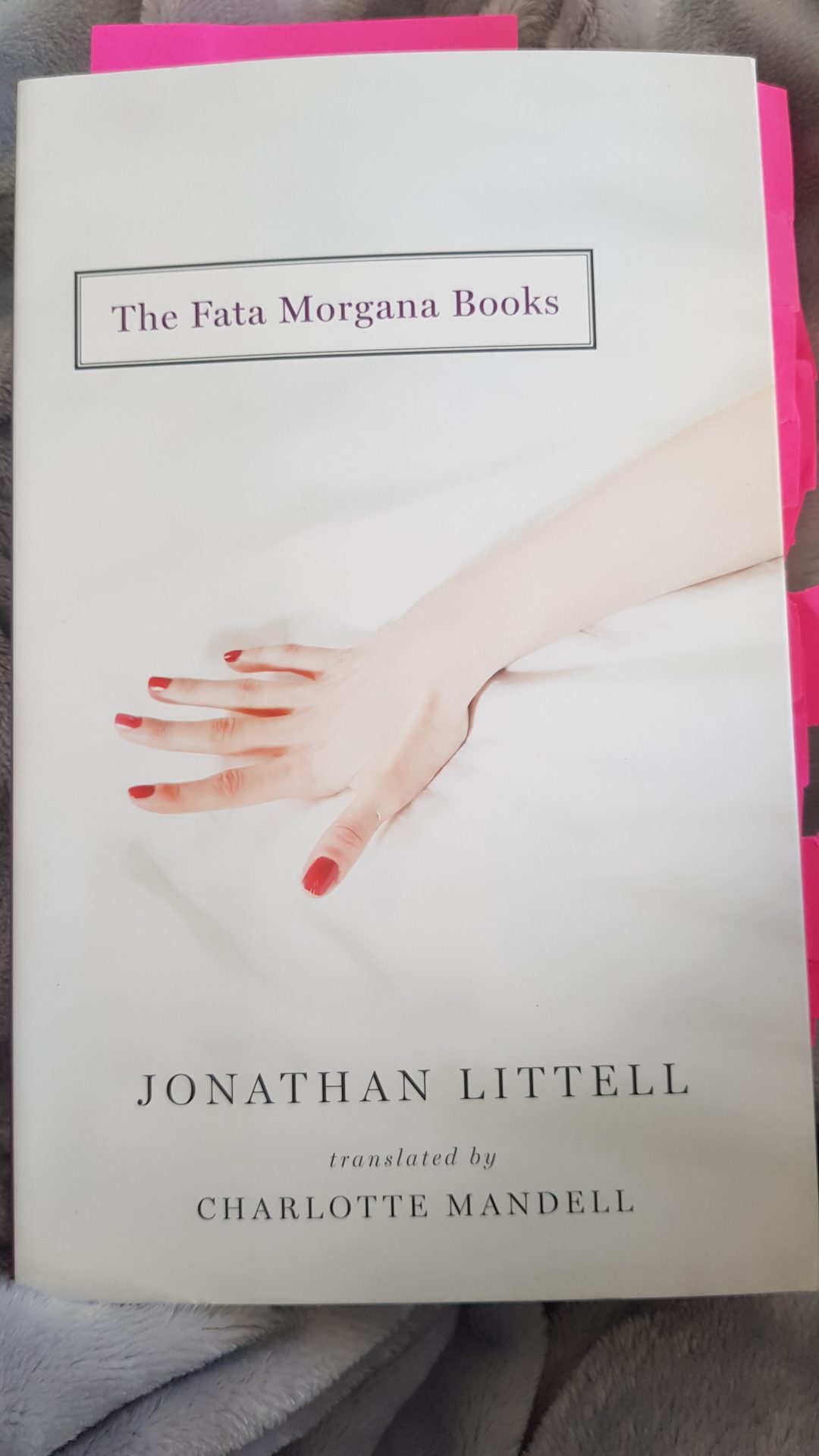 Book title: The Fata Morgana Books
Author: Jonathan Littell
Translator: Charlotte Mandell
Publisher of this edition: Two Lines Press
Copyright: © Jonathan Littell 2007, 2009, 2010, 2012
Translation copyright: © Charlotte Mandell 2013
First published: Each of the four short stories published separately as above: 2007, 2009, 2010 and 2012
Cover photo: Matt Henry
THE RAUNCH REVIEW: Violet's Verdict
Quick synopsis: A collection of four short stories from Jonathan Littell (one of my favourite writers who wrote the beautifully shocking novel The Kindly Ones), which capture unformed obsessions. The stories are vague and haunting, sexy and explicit. They avoid definition and certainty, the only solid foundations being, sensual feelings amongst a mass of contradictions and unexplained dream-like activities. 
Title: The overarching title of the book attempts to unite the disconcerting dizziness that seems to dominate all the stories. The Italian term Fata Morgana means a complex mirage visible above the horizon. The term can be traced back to the name of an Arthurian sorceress Morgan le Fay, who was believed to have conjured up castles or large tracts of land to lure sexy sailors in uniform to their death. Such mirages distort the objects on which they are based, which can include almost any kind of distant objects like massive oil tankers jammed between the sea and the sky, so that the object itself appears to be something else entirely. Now I'm no meteorologist, but if I had to guess I'd say that that sort of weird looking shit faraway is probably caused by the weather or hallucinogenics. And it turns out that this particular type of mirage is indeed caused by a thermal inversion and an atmospheric duct, which occur due to rays of light bending when they pass through layers of air that are all at different temperatures. So, there you bloody go, now you know. 
Cover image: A nice hand. Hands are pretty damn erotic. I'd say more erotic than lots of the other bits of the body. Dressed nails. Red nails = sex. White sheets. If I had to analyse the hand gesture, I would say that this person is probably having it off as the palm is pushing into the mattress possibly through mild elation rather than distress (as distress would be denoted by a balling of the fist). And the sheets, let's not forget the sheets, they look pretty silky (expensive) and are getting a little trounced by all that writhing around like whipped egg whites when a fork is inserted. 
Best sentence/s in the book:
I came too, in long whitish streams on her golden skin, then I lay down next to her, gathered her in my arms, slept a little; when I woke up, everything began again, without end, without conclusion, without appeasement. 
I was sweating, there was shit everywhere. 
Aside from the dress, she wore nothing but a pair of tiny, salmon-colored panties made of an almost transparent tulle.
When my hand tried to slip into her pants, though, she seized my wrist, with a firm and calm gesture; I kept insisting, between kisses I slipped my fingers here and there, then slowly returned to the elastic; once again, she put up a gentle but unshakable resistance. 
In the end, I found myself lying on my belly, with the older doctor, who had pulled on latex gloves, delicately parting the cleft of my buttocks, and the two women stood leaning over my anus as if over a well, calmly discoursing on what they saw there. 
I also liked to go out in the street like that, with this lace underwear beneath my clothes: it produced a strange sensation in me – light and floating, as if both sexes at once were strolling in my body through the city. 
Make sure you sign-up to Violet's mailing list HERE. And buy Violet's chapbook if you can: she's on her knees HERE.

 
Overall sexual content: The sex bits are top drawer. The content of most of the stories is very soupy, so when the sex comes into sharp focus it is very very erotic. Littell seems to be trying to capture the undulation of life and then the contrasting shock of those moments that shiver our timbers and hack through the crapping mundaneness of everyday life. 
In one of the four stories, Story About Nothing, a man who experiences transgenderism is given a porn video by a stranger. His detailed description of seeming to embody both genders and the three-some that takes place on screen is exquisitely written as well as titillating. He watches the tape with an objectivity that is incredibly sexy, eventually discussing his role as the fifth and most important participant in the porno (after the three bodies on screen and let's not forget the faceless camera operator). 
Overall conclusion: 7 out of 10.
Titillation station: Big bang for your bucks. I was well deep even before I got under the covers. Although I'm biased (the momentousness of The Kindly Ones, which includes an SS officer having graphic sex with a tree branch, means that I was bound to like anything Littell turns his hand to), I can genuinely say that this is a great book. I certainly distracted myself for a couple of hours. Spit poured out of my trumpet if you know what I mean. The horn. It gives you the horn.  
Food for thought: This book is well dirty. The pages smell like sweaty bodies and the text runs off each sheet. I'd really like to bump into Jonathan in the home fragrances aisle of John Lewis. I'd like to think I'd be brave enough to touch his shopping. Maybe I'd tell him about my favourite sentence that he's written, but then that's hardly fair on his translator.
The first book Littell published – a wedge of cyberpunk called Bad Voltage – and which Littell calls "a very bad science-fiction novel" – sounds like it needs devouring too, with sausages and gravy. 
I particularly like the bit in one of the short stories – you will have to read them all to find out which one – where the narrator says basically that he has found the woman that he adores most in the world, out of all the women that exist. And then in the very next sentence he says except for this other woman who is just fucking incredibly edible. (I'm just paraphrasing he obviously said it way more poetically than my attempt at writing, which is the equivalent of having some sort of unexpected enema at a BBQ.)
Don't miss out – sign up to V's mailing list here: CLICK ME!