Violet Malice has decided to review erotica. Not dirty books. Erotic literature. There is a difference. Erotic literature is supposed to have some literary merit. Violet is going in search of a HOT and STIMULATING bedtime read. And will also, obviously, be assessing the level of titillation achieved, in order to answer that yearning question: can a good book ever be as exciting as a good fuck?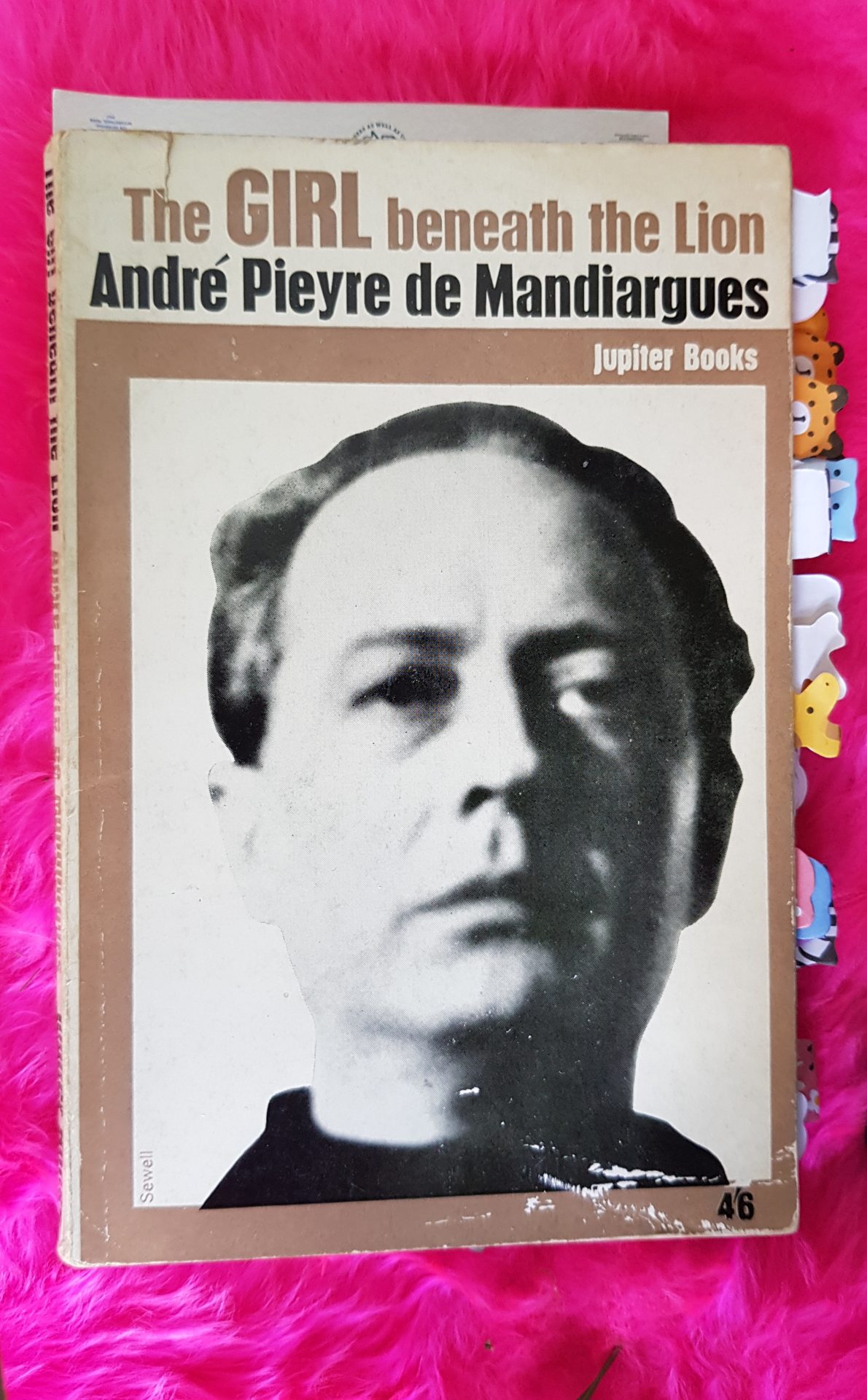 Book title: The Girl Beneath The Lion
Author: Andre Pieyre de Mandiargues
Translator: Richard Howard
First published: 1959

Back cover blurb that caught Violet's attention: Few novelists have been able to catch the essence of a woman's erotic impulses with quite such truth and poetic feeling, nor in a prose of such distinction. Violet's response to this was, "yeh fucking right, we'll just see about that."
THE RAUNCH REVIEW: Violet's Verdict
Quick synopsis: A young virgin called Vanina (nice, one letter off vagina) gets all horned up on holiday in Sardinia and tells this dude who she sees staring at her on the beach to do a few things in order to eventually have it off with her in some woods one evening. She never allows him to speak, which is actually quite a good strategy to not get disappointed by someone's personality.
Front cover: WTF? A badly photoshopped pic of some random dude. The book is about a young girl's sexual awakening! Who in their right mind chose to represent this by putting some haughty looking middle-class looking male slapped up the front in a turtleneck. On the plus side, a shite front cover makes me more interested to know what's under the covers. Wink. Wink. Stink. Stink.
Best two-word phrase in the book: Couldn't decide between musky melons and faecal zone. But I do like to have my erotica caked and eaten.
Comments on the title: Our Vanina fantasizes about having sex with a lion and the general vibe is that she's into S&M and being dominated by a violent animal/man.
Best sentence in the book: It is not absolutely necessary that he love me; it is not even indispensable that he have a soul, that he be inhabited by a kind of seagull. 
Sexual content: Bit sparse. But refreshingly strange. On page 80/1 there is an interesting passage about a man in a cheese shed that rubs cream cheese up Vanina's thighs as some sort of skincare routine. She is 8 years old at this point so it's unsavoury to say the least. The main sex bit on page 104 onwards is pretty boring – metaphors such as burning rod of iron and grand statements after the fact such as the limits of her self-hood dropped away are pretty rubbish and sentimental. But I suppose it's an accurate depiction of a man imagining what a woman's fantasies might be.
For proper sexual content buy Violet's chapbook Tinder Bender: https://violetmalice.com/product/chapbook-tinder-bender/
Overall conclusion: 3 out of 10. None of this rings true. Very reductive. Boring erotica. No sexy describing words or hot lust action. Just overly sentimental horse shit – too much detail about nature and the sea which is obviously a metaphor for stupidity – with no actual pay off. Overuse of the word love – which is a total burn off – because love obviously is all a young girl cares about.
Titillation station: Two fingers down (dissatisfied)
Food for thought: He does end it in a very surprising way. After they've had it off, you learn very abruptly that her parents were killed by a violent bunch of young men and that she witnessed all of this as well as her mother been raped by these men. She then runs away from her so-called 'lover' and leaves Italy without ever wanting to know his name.
Finally, I have a problem with erotica that paints kinks as always linked to damage. I think this book should have been about the guy on the cover having it off with a fridge. I would have enjoyed that more. Stick to what you blow.
Sign-up to Violet's mailing list if you're hungry for more: https://eepurl.com/hTKdsr