Violet Malice is hopping mad after lifting one of the heavyweights of literature this week. A dumbbell of a book, laden with knee tremblers and electrolytes. Sticky with the sweet and sour chicken balls of lust and vasopressin. A book that turns the pages for you and rolls off the tongue. Thrashing underneath the covers. It's the wild eyes leaning out the window of the soul. Get ready for the long slow shadows of autumn. The soft tumbling of clothes like leaves off the trees. Violet's weekly adult book review – as always – attempts to answer that tragic question: can a good book ever be as haunting as the best fucking fuck you ever had?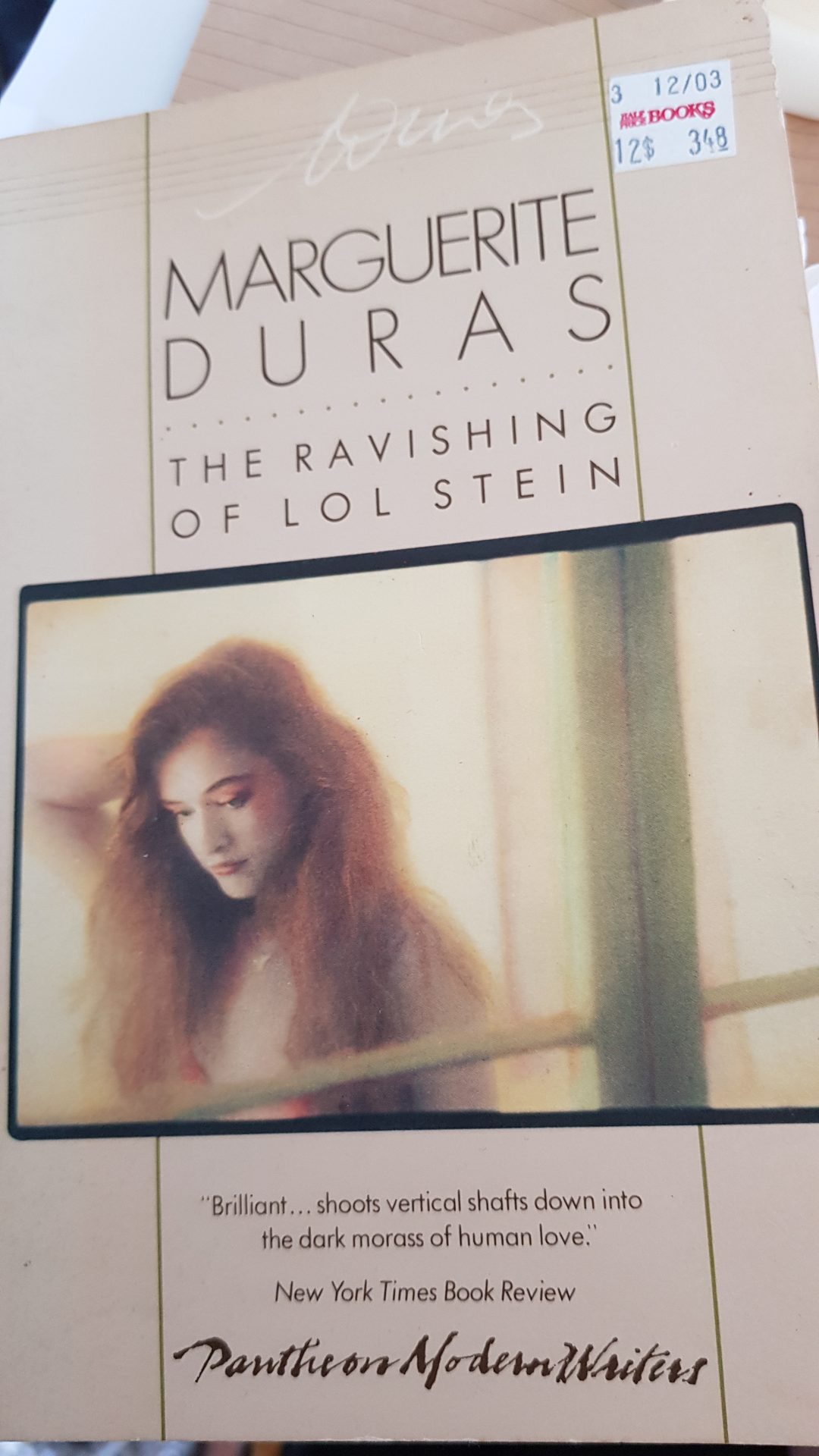 Book title: The Ravishing of Lol Stein
Author: Marguerite Duras
Translator: Richard Seaver
Publisher of this edition: Pantheon Books
Translation copyright: © Grove Press Inc 1966
First published: 1964
Cover photo: Christine Rodin
THE RAUNCH REVIEW: Violet's Verdict
Quick synopsis: One day a married woman – Lol Stein – follows a man who unbeknown to her is having an affair with a woman that she used know in her youth. Lol lies in a field of rye and watches them have sex through a hotel window. The man becomes aware of Lol Stein's presence in the field, which heightens her pleasure.
Title: The title is as complex and loaded as the book. The act of voyeurism is a powerful act of intense inactivity. To watch and to be watched. To be known and unknown. The use of the word ravishing therefore is very interesting, both an adjective and a verb, passive and active all at the same time. A pair of eyes on stalks – obsessively observing – an obliteration of the self.
Cover image: The naked woman with cascades of brown hair in the hotel window. To watch two people framed by a window as you lay down in a field presents a partial view of the activity going on inside. She could have stood up and got a better view. Maybe even packed some binoculars. But she chooses to lay down and look up at their naked bodies slowly fucking into the night like a smoking gun. I think she wanted room to fill in the blanks, because sometimes not seeing is even better than seeing.
Best sentence in the book:
"The rye rustles beneath her loins. Young, early-summer rye. Her eyes riveted on the lighted window, a woman hearkens to the void – feeding upon, devouring this non-existent, invisible spectacle, the light from a room where others are."
Sign-up to Violet's mailing list HERE. Buy Violet's chapbook HERE. 
Overall sexual content: An exquisite work of literature. Complex and poignant. Like gazing into the well of our own behaviour and coming up with questions.
The book takes on huge subjects such as betrayal, madness, obsession, want, desire and our own relationship with the self. Maybe sometimes we might want to escape ourselves – just for a while. Disappear down someone else's rampant rabbit hole. We are – in the internet age – all voyeurs. Watching each other. Thinking about being watched. Wanking into the void.
The actual sex in the book is rather minimal but that does not detract from the intensity of the eroticism or the power of the story. Marguerite Duras is a writer of great cliterature. It is a gift that she wrote this book. That she presented an unusual angle of female sexuality in all its glory and did not seek to explain it away or apologise for it.
The story is narrated by a male character – the man being followed who becomes the lover in the hotel window – which is a beautiful twist to the question of who is actually being watched and how much of what we are told is someone else's interpretation of someone's behaviour. Especially the behaviour of a beautiful woman. We all watch beautiful women closely don't we? Obsessed with their every expression. Imagining them having it off all the time. Wondering how they look covered in cum.
The sex is as complex as I've ever read. When Lol Stein eventually fucks the lover she has been watching in the hotel window it is haunting and entirely forgettable. Like it's probably better if she just watches. Objects watch.
Overall conclusion: 8 out of 10.
Titillation station: Very sexy without being explicit. The power is in the anticipation. The obsession. The act of sidelining the self and letting someone else lead. If you like using your imagination – filling in the blanks – this book will get you off. Even the sad sex is beautiful. Where the act of unity pushes us further apart.
Food for thought: The beauty of this book is in its vulnerability. Lol Stein has never got over being abandoned by her first love and the shame of being jilted in front of everyone at a party. A decade later she is happily married to a man who has taken care of her since that loss. The love she had for the fiancé that left her burnt out on the hard shoulder is dead, but despite her seemly chocolate box of a life there is something that keeps Lol Stein endlessly walking the streets as if she is looking for something. As if she is rushing to get somewhere, to find something watching the barbarity of someone else's love.
Also, what is it with French women and following people? Artist Sophie Calle in her book Please Follow Me details the time that she followed a man who she loses in the streets of Paris. Later that evening she is introduced to him at an art opening and he tells her that he is due to visit Venice. She follows him there without his knowledge. She finds his hotel and watches him as he makes his way through the city covertly taking photographs of him. Sometimes, and I'm not one for boasting, I've been known to remove my knickers on public transport and put them in strangers pockets.
Do yourself a favour. Follow Violet for a bit: https://eepurl.com/hTKdsr