You'll never guess what…
I went to the snooker final. I am a big fan of ball sports that involve dickie bows and waistcoats. It really gives me the horn, all that bending over the table. All that chalking the tip. All that synthetic resin dropping like batter into hot oil. It was pretty mouth-watering. I didn't want it to end. But, alas, as the saying goes, everything must come at the end. Otherwise no one's allowed to finish. Violet's weekly adult book review is streaking into 2023. A whole new year of reading. All bouncy, pink and vulnerable. As we attempt to answer that inflatable question: can a good book ever be as buoyant as a good fuck?
Please sign-up to mailing list before everyone takes their clothes off: HERE.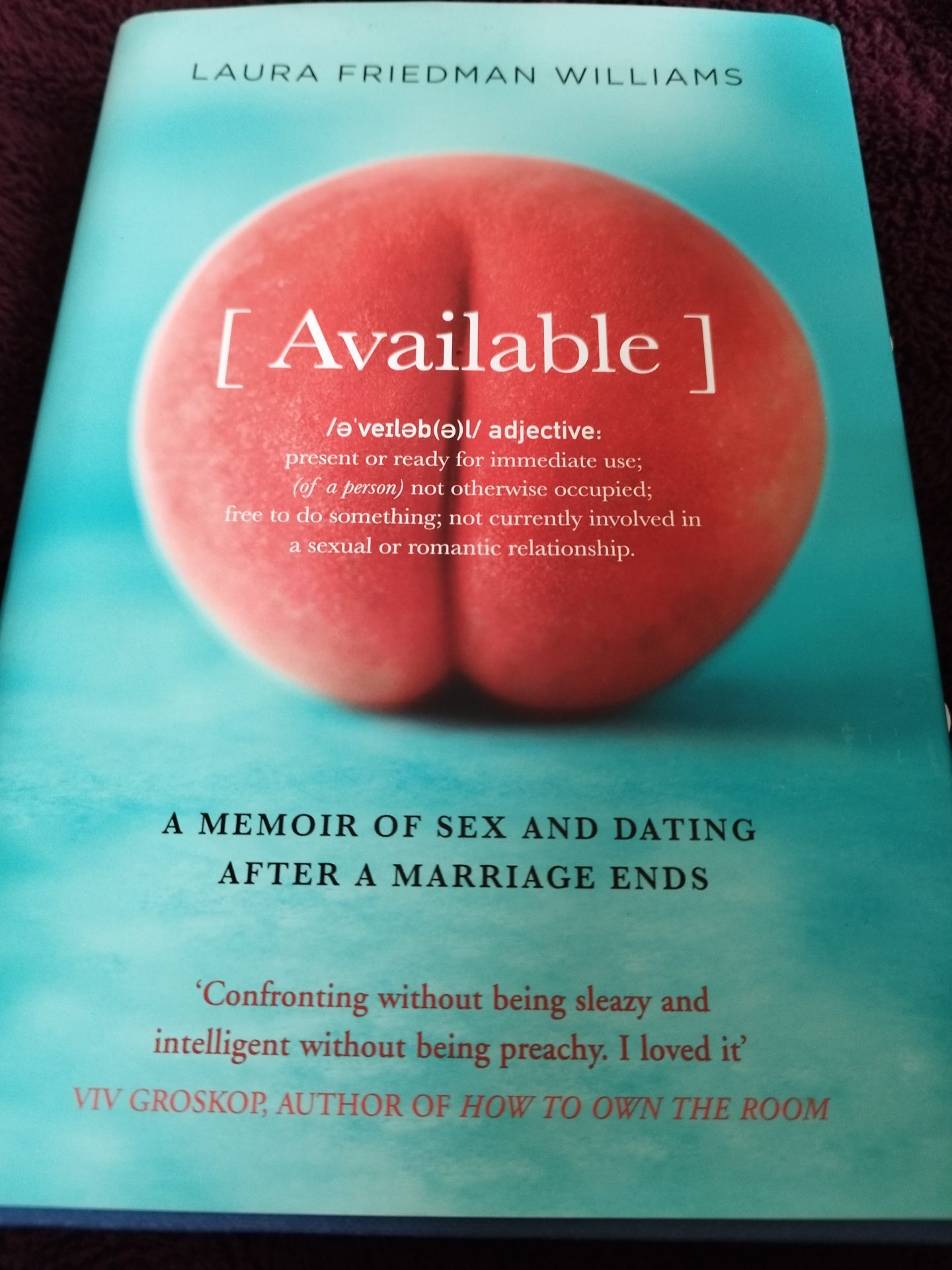 Book title: Available: A Memoir of Sex and Dating After a Marriage Ends 
Author: Laura Friedman Williams
Publisher of this edition: The Borough Press, HarperCollinsPublishers
Copyright: © Laura Friedman Williams 2021
First published: 2021
Cover art: plainpicture/amanaimages/LUSH LIFE/A.collection
THE RAUNCH REVIEW: Violet's Verdict
Quick synopsis:  This is a very personal account of a woman's plunge into sex and dating after her 22-year marriage ends. Laura, a 47-year-old mother of three, dishes the dirt on what it's like to put an unfamiliar prick in your arse after two decades of nothing fucking. How to pluck your bean up out of the gutter and try to form some sort of identity out of the ruins. 
Title: I am AVAILABLE. A pretty horrifying statement after a lifetime of putting other people's needs before your own. To be consumed by Mother and Wife. What a pair of cunts. What a horrifying thought, to be available. A pint of single cream sat in the fridge counter waiting to be wanted. 
Cover image: A lovely looking peach with an erotic looking crease. How delicious. Fruit is sexy, we all know that. My only beef is that maybe the crease is too straight. It makes me think that this might be a genetically modified stoned fruit. No one has a perfectly straight furry arse crevice. Not that I've cum across anyway (and I've had my fair share of A2M, according to the UK government's National Statistics). 
Best sentence/s in the book:
I have always gagged giving blow jobs. 
More importantly, two men have now independently surveyed the state of my vagina and given it the all-clear. 
There is something that makes a man look so vulnerable when he is handling himself […]. 
I am too shy to do what I really want, which is to tell him this is my first close-up with an uncircumcised penis, and to more closely examine it, so I settle for another round of sex and then agree we can go eat dinner. 
I am scared to say no to this man – he is intense and determined, and I fear that I might have led him to this inevitable conclusion so that saying no now would brand me a tease, a blue-baller, a naïf, someone who doesn't understand the sexual dynamics between a man and a woman. 
"Can I have you one more time before you go?"
When his finger slides inside me, my eyes dart to the side where a large group of millennials is gathered next to us. 
Sign-up to Violet's mailing list HERE.
Buy Violet's limited edition chapbook HERE. 
Overall sexual content: I mean it's a bit of a curve ball, it's actually autobiographical and as such not a balls out dirty book. The writer is navigating her reawakening as a single sexual being, so there is a focus on sex, the ins and outs, and navigating the rough seas of expectation. It's not exactly titillating, but there is an erotic aspect to the very intimate account of someone tiptoeing into the bedroom after their whole life has been dissolved by lies. Someone that is being very honest about what they see in front of them – genital warts and all – and the internal battles they are fighting. 
There is lots of detail about the sex being served up and this new frontier. I would say that it is hard to be all fired up like a wood burner when someone is being so personal about their hang-ups and surprised at how much dick someone has got.  That's a bit of a mood killer for the one-handed reader. 
Overall conclusion: 6 out of 10.
Titillation station: It would be unfair of me to say that I thought this was erotica. It's not. But it is taking on the erotic nevertheless. I think this is a warm load of reading that hopes to empower people and in this instance that is a much more valuable proposition than a masturbatory back-flip. 
Food for thought: It is a page-turner indeed and I did enjoy the ease in which Laura weaves her story. I think these sorts of personal books about sex are important to help people navigate the peaks and troughs of life, and find hope where seemingly there is none. 
The jarring aspect for me was the sharp self-doubt about the aging female body. It is understandable that a woman that has never explored her sexuality outside of her fucking boring marriage would be unsure of how desirable she is in the brave new Tinder filled world. But I didn't like the fact that Laura had to be constantly reassured about the state of her tits and her fanny by a host of gym-addicted dicks on sticks. I was disappointed that she needed that reassurance even after she has blazed her own sexy path through the low hanging fruits of the forest.
I think that if women internalise a dislike for their own aging bodies because they think that men won't find them sexy, that's a massive part of the problem. What is it with women and aging? Surely, it's something to be celebrated. I think this book made me feel more conscious of my body as a commodity – as something that degrades and decays. Women need to be kind. The alternative is an expensive smile and tits with no give. 
Big announcement coming soon – join the mailing list: CLICK ME!