Violet Malice has been reading pulpy paperbacks like nobody's business this week. Beware of the sex robot. She has been ruminating on the use of keelhauling in the olden days and wondering whether taking the width instead of the length as punishment would be shameful. If you were unlucky enough to survive, of course. On the look out for a bedtime read that gets the sweat glands firing and the deep oval grape getting eaten. Violet's weekly adult book review attempts to answer that multifaceted question: can a good book ever be as liquid as a good fuck?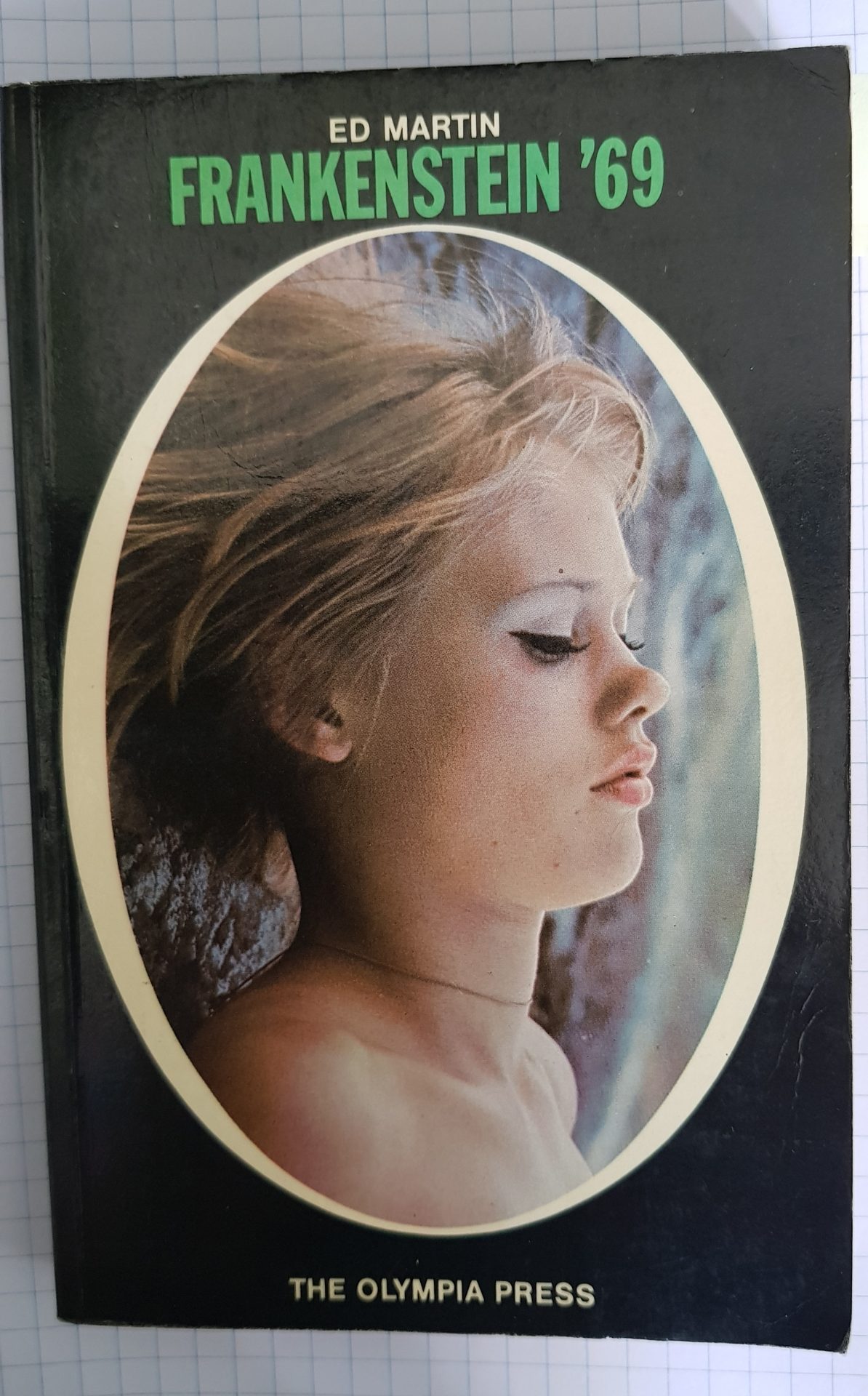 Book title: Frankenstein '69
Author: Ed Martin
Publisher of this edition: The Olympia Press
Copyright: © Ed Martin 1969
Publication date of this edition: 1972
Cover photo: Giles Lagarde
THE RAUNCH REVIEW: Violet's Verdict
Quick synopsis: A castle-dwelling scientist Ygor and his insatiable wife Hortense (how do you make a whore tense?) conduct sex research on two students. Meanwhile, Ygor finally succeeds in bringing to life three beautiful virgins, constructed from metal pipes and screw bits, otherwise known as Frankensteinesses. The rub comes in the shape of a higher power: Appalled by the fact that one of Ygor's students has become pregnant, while her virginity remains in tact, which means that she will give birth to an amphibian, the king of the mermaids orders two of his randiest stooges to go and 'unpregnant' her. Then it all kicks off – as one might expect.
Title: The title is pretty good – it certainly piqued my interest – even though it doesn't really fit with the story. Yes – the mad scientist creates some robot sex humans but they are not really human or at least they are not made from human body parts like Frankenstein's monster. Although Ygor and his wife do find themselves disgusted by their creations, and have to runaway on several occasions, because the sex robots won't stop having sex with them or each other. It's likely the title was given to Ed Martin before he'd started writing.
The '69 aspect presumably relates to the year it was written. Although I like to think it refers to all the long flowery descriptions of oral hygiene and sexy root canals littering the pages. I think at least 83% of the book is dedicated to the art of facetime or facedowntime. Like right down there. Up the guts.
Cover image: Beautiful. Iconic. What's not to like? Although, she could be in a morgue or on a butcher's slab. And the necklace – from far away – could look like her head has been sewn on. Much like Frankenstein's creature. But he was a hideous amalgam of corpses remember. Not a rosebud about to be introduced to a force 5 (Beaufort scale, yeah).
Best sentence/s in the book:
"I'd love to screw something up your asshole and ram it in and out until you come like a fucking fountain."
"If his nuts got any higher he might, as they say a bit coarsely, spray his fuck."
"Hey, big-tits, swim over here and suck my cock."
"You keep that up, baby, and I'm going to come off in your hand."
Sign-up to Violet's mailing list HERE. Buy Violet's chapbook HERE. 
Overall sexual content: The BEST book I have ever read!
Not only is the sex amazing and glorious and poetically written, but it's funny and warm and sticky and celebratory.
All of the characters love sex. All of the genitals receive a great deal of attention – literal and metaphorical. The mermaids have cocks and pussies and everybody gets off all of the time. Relentlessly. Gratuitously.
I've never read sex writing as good as this! I don't know what else to say.
Even the bits about beastiality – when one of the mermaids has sex with a horse – are fucking ace-in-the-hole. Or when the virgin fucks herself with a log because she's that way inclined.
Overall conclusion: 9.9 out of 10.
Titillation station: Liquid decadence has never felt this good. It used to smell like a hungry rainforest and now it smells like a sweaty man with a frothing mouth organ. I'm talking chocolate habanero (Scoville scale, alright).
Food for thought: This book is like if Shakespeare wrote some porn and wasn't such a hairy conservative arsecrack, i.e. the dialogue and the description are fucking outstanding. As an example – because I can tell you're doubting me – here are a few gems:
go ahead cook your tits —— (this had me literally pissing the bed)
a kind of relaxed mid-afternoon casual spontaneous prolonged fuck in the garden ———- (Jesus couldn't have strung it out better)
they call the king of the mermaids a different term of formal address throughout the book, including: Your Quivering Prostate; His Permanent Erection; Centurion of Cuntjuice; Rector of Rectums; The Gaping Shaved Pussy; Master of the Triple Come; you get the picture…
What a gloriously fun book! The fantastical element – the mermaids and shit – is perfectly balanced in order to allow the reader to dip their toe into the deep dark pool of perversion without being pulled under. The virgin sex robot dolls element enables the writer to present sex from an entirely innocent and curious perspective without again careering into anything uncomfortable. And it makes for some great comedy:
Carole [the brunette sex robot] was still stretched out on the table. She had her pussy peeled down and was trying to fish inside for loose wires. "Someone has just got to fix my pussy," she wails. And then later on she astutely observes: "Oh look, I'm getting the shit fucked out of me!" 
PLEASE, NOW!!!!!!!!!!! CLICK ME!!!! Sign-up to Violet's mailing list: https://eepurl.com/hTKdsr