CANCELLED —– Crack Me Up! Comedy Club Opening Night
17 September 2022 @ 7:30 pm

-

11:30 pm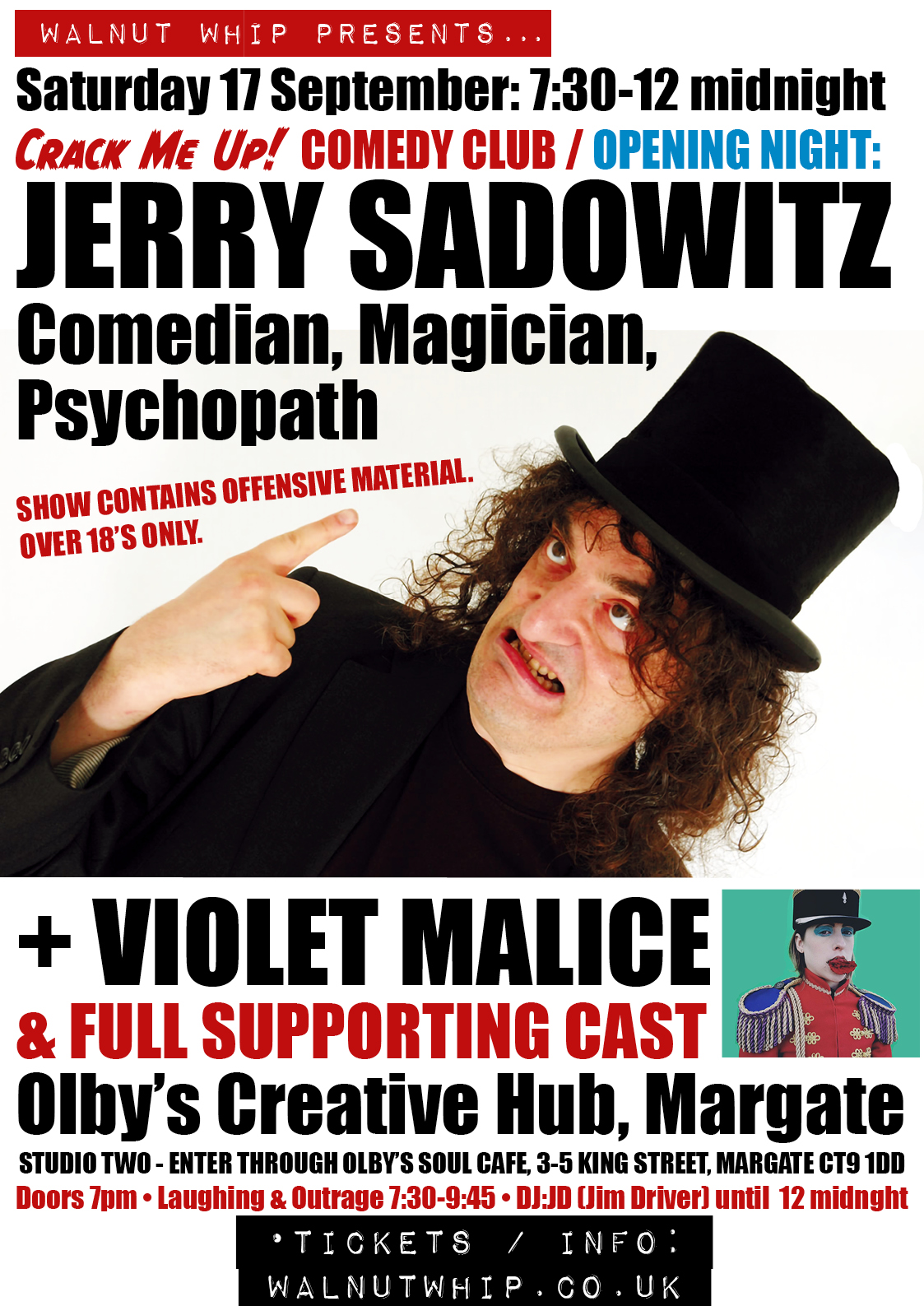 This has all been cancelled because of some utter cunts!
Saturday 17 September, 7:30-12 midnight
Walnut Whip presents…
Crack Me Up! Comedy Club / Opening Night
JERRY SADOWITZ
Comedian, Magician, Psychopath
Jerry Sadowitz slams into Margate with his whacky impressions of Greta Thunberg, Frankie Boyle, and deep vein thrombosis. He also promises to do less hate-fuelled swearing and focus more on faux liberal pish in order to appeal to the middle class and their disposable income and personalities.
"Please note that I might just do card tricks and say NOTHING for a whole hour or I might just do the usual 'screaming fascist' schtick. Or both. Patrons may wish to drink alcohol pre-show to avoid boredom, embarrassment and guilt."
+ VIOLET MALICE
There's so much more to Violet Malice than an offensive manner, poetry about Tinder dates, erotic chat in Waitrose, and a mouthful of cock-
tail. One funny bitch. Come and see what the fuss is all about…OTHER EQUALLY OFFENSIVE PERFORMERS ARE STILL TO BE CONFIRMED… 
Doors 7 pm • Laughing & Outrage 7:30-9:45 • DJ:JD (Jim Driver) until 12 midnght
WARNING: Show contains offensive material. Over 18's only.
Buy your tickets HERE now before it sells out.